The Summer of iPhone 4 - A Summer of Surprises
---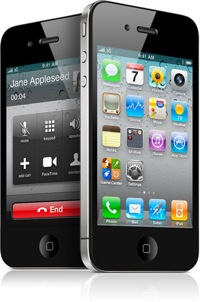 As this summer is coming to a close, I thought it might be a good idea to share some thoughts about the Apple iPhone 4. It was released just days after summer began here. Where did the time go? Can it be that I have already been using the iPhone 4 for a quarter of year now? It is somewhat surprising when I think of it that way.
Then again, this device has been full of surprises. Going back to — when was it — last March? With the whole incident of it showing up on a website. The site purchased it from someone that claimed it was supposedly left behind at a bar while it was being tested in the wild. I recall at the time thinking that it had be some sort of iPhone knock off from China or something as no way would Apple redesign the iPhone in that way (with what looked to be visible seams no less on the sides). These first unauthorized photos of the device made it look thicker than the existing iPhones at the time (in fact it is thinner). It didn't seem Apple would go that direction.
So it was much to my surprise that it came to light that indeed this was the next generation iPhone Apple was prepping to release in June. The new design did make sense once Apple announced it and it was explained why the design had changed as it did.
What was not a surprise was that Apple had a new iPhone coming out in June. It has been an annual refresh time for it since it first arrived in 2007. I was there then for the first release for it standing in line outside of a local Apple store for it. I figured it was something that I would not be doing again this June being that I was on that line once again last year for the release of the iPhone 3GS upgrading my original iPhone. With that said, it had only been a year since upgrading to the 3GS, therefore I estimated the earliest I would be able to upgrade (due to AT&T contract restrictions) would be January 2011. If that was to be the case, I then also considered I might wait until the following June in order to get the latest refresh.
When Apple started taking pre-orders and reservations for the iPhone 4, we were able to check our eligibility right from our existing iPhones. After a period of not bothering to check knowing that I would not be eligible, I decided to check to see if I would be eligible in January or would it be possibly be December or February... so I checked. To my great surprise, I was informed I was eligible now (or rather then).
It was worth it for the camera upgrade alone in the iPhone 4. So after being stunned for a while, I put my reservation in to pick up an iPhone 4 at the Apple store on the day of its release. I figured I would be able to avoid the long wait in line by having a reservation. Wrong!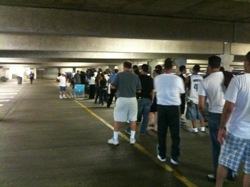 Hence my next surprise, arriving at the Apple store to find a line longer than I ever imagined. Longer than the original iPhone release... and this was for those with reservations! It wasn't too bad, though it was one of the hottest days in June and the line extended outside (in a parking garage with no breeze). Apple did the best they could keep those in line comfortable (supplying us with bottled water, pizza, etc.). It was only about 3 hours for me. It is all part of the experience. Though other friends, like Allison Sheridan @podfeet fared much worse with something of the order of 10 hours on line waiting for her iPhone 4.
Now of course I knew what to expect with the iPhone 4. Obviously, I saw the Apple announcement of it with Steve Jobs and I had seen screenshot comparisons of the new retina display of the iPhone 4 comparing it the iPhone 3GS. Though after 3 years with the iPhone (original and 3GS), it was a BIG difference seeing the new iPhone 4 retina display for the first time in person. When the Apple store salesperson revealed it while activating my iPhone in store, I couldn't believe it. At first I thought it was one of those simulated display decals you sometimes find on electronics. It seemed too sharp and crisp for an LCD screen.
I've gotten used to the display for the most part now, but I still can see the difference when compared to other LCD displays that I use regularly.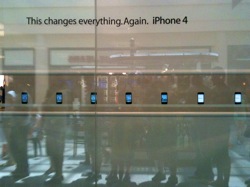 Sure they activated the new iPhone at the Apple store so you could make or receive calls instantly with it, but anyone that knows me knows that the iPhone is probably not the best name for the device as I hardly use the Phone app on it. Until I was able to sync my iPhone to get all my data on it, it's pretty much useless. So I immediately synced the new iOS device upon returning home. I couldn't wait until I could hold it my hands and play around with it. Which I did immediately after it finished syncing.
My next surprise was to see the cell phone reception bars drop off a bit while I was holding it, but I simply dismissed it as an AT&T fluctuation. Didn't give it another thought at the time.
Going from the 3GS to the 4 was not the same as going from the 2G (first iPhone) to the 3GS in terms of speed as the 3GS was already very fast (unlike the last few months with the original iPhone which seemed so slow I wanted to throw the thing — that was never the case with the 3GS). The camera in the iPhone 4 was much improved but I did notice how it blew out areas of the photo that were too bright. This is now remedied in the latest iOS 4.1 release which now includes HDR mode as an option when taking photographs. Another issue that has been fixed with the release of iOS 4.1 is the 'Places' feature in the Photo app. It had been so slow it was unusable for me. This was not the case everyone, but it should be noted that I have over 13,000 photos on the device, most of them geo-tagged.
So those two initial complaints have now been addressed with the release of iOS 4.1.
Another surprise came while testing out the new Facetime feature included in the iPhone 4. The first test I did was on the first day with the new iPhone 4 calling my friend, Tara Wheeler @TARDIS_Tara. I knew she too had waited on line for the iPhone 4 that day and I had her phone number. The surprise was how useful I found Facetime to be in certain situations. The ability to show the other person what you are seeing by switching cameras is key. Granted it is not something I will or have been using all the time, but it is a very useful feature nonetheless.
There were more surprises ahead with the iPhone, not least of all was all the fuss the media made out of the supposed antenna issue that may have affected a small minority. As I said earlier, when I first held my iPhone 4 I did notice the cell phone reception bars (meter) drop off. It never lost the signal completely. With all the media attention perhaps I became more aware of it maybe consciously or subconsciously avoided holding it in the way that would bridge the antenna seam in that spot (it turns out that it was not bridging the seam that was the issue).
In either case, I was not dropping calls (mind you, I don't use the iPhone much for calls anyway, I am not a heavy phone user). If you have been following the story, you know what eventually happened. I am not going to recap it all here. Long story, short is that Apple announced a free iPhone 4 case program for those who purchased the iPhone 4.
Now let me explain that I never used a case on my iPhones before. Not the type of case that stays on the phone while you use it. Instead my iPhone cases were like cases for musical instruments. Cases that you would put your device in while you are not using it. You wouldn't play a tuba or violin while it was in the case, nor would I use my iPhone while it was in its case. I enjoy the design of the iPhone too much to have it covered up in a hokey case (though I admit there have been some nicely designed cases over the years for it, but still many of them are hokey looking).
So with that said though, and with the new design of the iPhone with its glass back, it tended to slide around more than the previous iPhones. I had considered an Apple iPhone Bumper case, I liked how Apple had used matching metal buttons in the Bumper case. Another reason I didn't use cases which would encase your iPhone full time was the fact that I use iPhone docks (both at home/office and in the automobile). It would mean removing the case every time I wanted to dock it. I asked about the Bumper case while I was at the Apple store to see how easily they could come on and off, but they were out of stock. So I never saw one in person.
When a free case was offered via Apple... I belabored which I should get and eventually I went back to the Apple Bumper case despite a few of my peers in new media trashing it.
I figured I would try the Bumper case, and if I didn't like it, I would simply continue using the iPhone without a case (just using the slip case for it when not in use).
When the Bumper arrived and I tried it on, I received yet another surprise. I like it. It really gives the iPhone 4 a nice grip to it. Despite what others may have said, it is actually a nicely engineered and designed piece. It fits the iPhone 4 perfectly. It is not just a big rubber band as some of my peers have said. It is two toned with glossy hard plastic surrounded by matte rubbery material. With the metal matching buttons of the iPhone 4, the precise openings for ports, jacks, speakers, and mute slider switch, it really shines. I thought I would only use the Bumper case when I was out in about outside where I would need a better grip of the iPhone while using it, but it turns out that I am using it all the time.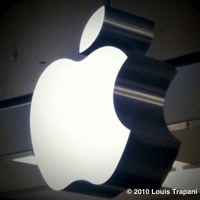 As great as the Bumper case is, I still think Apple had overpriced it though at $29. It really should be no more than half that price. I got it free of course as part of the program. The program is now ending I believe at the end of this month. You can still get a free case if you experience problems with phone reception though through Apple. I think it will be done on a case by case basis after the program ends.
Overall I have been very happy with the iPhone 4. It has been full of surprises. Most of the problems I may have had with it has been addressed with the iOS updates. I never had any problems with the sensors that turn off the touch screen while holding it by your face. I don't usually use the phone that way anyway as I prefer to use the headphones or a hands-free device while driving. Though that too has been fixed in the latest iOS update. My only problem is AT&T, not their service, but rather the pricing of their plans. Since I hardly use the Phone app, I wish they had a calling plan that is cheaper which offeres less minutes perhaps. I never use up my minutes. They roll up each month until they eventually expire a year later. Now I am thinking of giving up my "unlimited" data plan just to save some money. I mostly use wi-fi anyway, so I hardly use the 3G on it.
This may not have been a full fledge review of the iPhone 4 (I am sure I left out some details), rather more of my impressions of it using it for close to three months now. Despite those that may have an axe to grind with Apple and have been vocal about it, the iPhone 4 is a great product and device.